Frenzy Wack-A-Sack
California Proposition 65 Warning
WARNING: These products may contain chemicals known to the State of California to cause cancer, birth defects, or other reproductive harm.
For more information visit: www.P65Warnings.ca.gov
The Wack-A-Sack is a new jig designed by lure designer and Pro Angler Greg Gutierrez. The W.A.S. Jig (as we've been calling it), allows an angler to present just about any plastic bait in several different ways. From wacky rigged to nose hooked, an angler can use 3 inch finesse worms to 12 inch magnum worms, tubes or creature baits, flat or round you name it.
It's built with an articulating hook which is directly attached to specially designed bottom walking weight. Unlike other J type rigs, this connection maintains the hook in an upright position throughout the cast.
Anglers of all levels will be able to benefit from the unique design of the W.A.S. Jig because it can be fished in rivers, lakes and everything in between. Structure such as buggy whips, grass and rocky structure are easy to work through. Teamed up with a Wacky Saddle the Wack-A-Sack does it all!
There are 4 different hook style/sizes; a #1, 2/0 and 4/0 Wide Gap round drop shot hook. And an "Elite" series using a 2/0 award winning "Trapper Tackle" Drop Shot hook.  Each hook style/size will have 4 weight sizes available ranging from 1/16 oz. to 3/8 oz. and they come in Black and Green Pumpkin.
From light line finessing in clear water to using a heavy rod and big line on the ledges and rock piles, this one jig allows you to "pick your poison" with just about any kind of soft plastic bait on the market. So if you're ready have some fun, tie on a W.A.S. Jig and "Wack-A-Sack"!
29 Models Available
Model
Color
Hook
Weight
Stock
Price
Qty
99578
Black
2/0 Trapper
1/4 oz.

Low Stock:

<5

$6.49

99579
Green Pumpkin
2/0 Trapper
1/4 oz.

In Stock:

5+

$6.49

99580
Black
2/0 Trapper
3/16 oz.

In Stock:

5+

$6.49

99581
Green Pumpkin
2/0 Trapper
3/16 oz.

In Stock:

5+

$6.49

99582
Black
2/0 Trapper
1/8 oz.

In Stock:

5+

$6.49

99583
Green Pumpkin
2/0 Trapper
1/8 oz.

In Stock:

5+

$6.49

99584
Black
2/0 Trapper
1/16 oz.

In Stock:

5+

$6.49

99585
Green Pumpkin
2/0 Trapper
1/16 oz.

In Stock:

5+

$6.49

99586
Black
4/0
3/8 oz.

In Stock:

5+

$5.49

99587
Green Pumpkin
4/0
3/8 oz.

In Stock:

5+

$5.49

99588
Black
4/0
5/16 oz.

In Stock:

5+

$5.49

99589
Green Pumpkin
4/0
5/16 oz.

In Stock:

5+

$5.49

99590
Black
4/0
1/4 oz.

Low Stock:

<5

$5.49

99592
Black
4/0
1/8 oz.

In Stock:

5+

$5.49

99593
Green Pumpkin
4/0
1/8 oz.

In Stock:

5+

$5.49

99596
Black
2/0
1/4 oz.
Out of Stock

$5.49

99597
Green Pumpkin
2/0
1/4 oz.

In Stock:

5+

$5.49

99598
Black
2/0
3/16 oz.

In Stock:

5+

$5.49

99599
Green Pumpkin
2/0
3/16 oz.

In Stock:

5+

$5.49

99600
Black
2/0
1/8 oz.

In Stock:

5+

$5.49

99601
Green Pumpkin
2/0
1/8 oz.

In Stock:

5+

$5.49

99602
Black
#1
1/4 oz.

In Stock:

5+

$5.49

99603
Green Pumpkin
#1
1/4 oz.

In Stock:

5+

$5.49

99604
Black
#1
3/16 oz.

In Stock:

5+

$5.49

99605
Green Pumpkin
#1
3/16 oz.

In Stock:

5+

$5.49

99606
Black
#1
1/8 oz.

In Stock:

5+

$5.49

99607
Green Pumpkin
#1
1/8 oz.

In Stock:

5+

$5.49

99608
Black
#1
1/16 oz.

In Stock:

5+

$5.49

99609
Green Pumpkin
#1
1/16 oz.

In Stock:

5+

$5.49
Other Frenzy Terminal Tackle Available
Other Frenzy obs-Terminal Tackle Available

Frenzy Shakey HD Nail
$4.99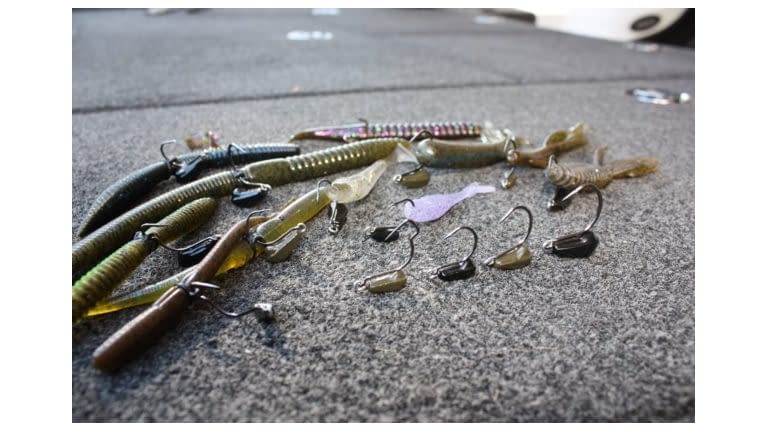 Scroll Image
Error
X items added to your cart